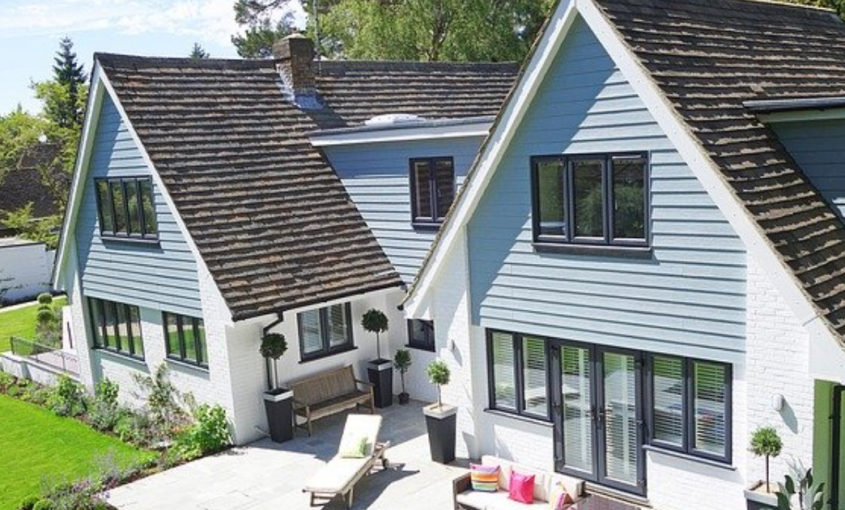 The most popular exterior paint colors for homes change over time due to fashion trends based on the colors' allure, draw, uniqueness, and added value in terms of the resale price achieved when selling a home. Here are some considerations that may help when deciding what color to paint a home.
Moving or Staying?
When making an exterior paint color choice, it is important to consider plans for how long a home will be owned before being sold. If you plan to live in the home for at least 10 years, feel free to paint it any color that you like. There is no need to be shy unless you are worried about irritating the neighbors.
Go for bright orange, lime green, purple, rainbow stripes, or a more subtle color choice to your liking. Just plan to repaint the exterior of the home in the future when putting it on the market for sale. Realtor.com says that repainting a home every 10 years is considered normal maintenance in most climates. More frequent repainting may be required in areas with severe weather.
If the home will be sold within the next few years, the exterior paint should be chosen for its draw that attracts potential buyers. One important factor that encourages a buyer to view the interior of a house for sale is the home's curb appeal.
Fashion Trends
Following a hot color trend may be a challenging choice if the trend is towards the extreme. For example, a trend for the exterior of homes that started in 2017 is to paint them black. Black-painted homes are considered "hot" by many. The problem is that they are too physically hot because they absorb so much heat.
For areas that are hot in the summer, expect the cooling bills to be much higher for a black-painted home unless there is increased insulation. Many find the color black to be horrendous; however, that fashion fad continues. For 2019 to 2020, black is still an exterior home color on the trending list especially for modern style up-scale homes.
Be Neutral Without Being Boring
Off-white, basic beige, and gray are traditionally the most neutral colors, yet they can fall into the category of blasé. Contemporary color palettes include neutral choices that are more lively such as crisp white (bright white with a slight hint of green), taupe (brown with a touch of gray), and charcoal (gray that is dark with a tiny bit of blue).
The highlight color, which is mixed in with these shades, is a nice choice for a complementary color in a darker shade. For example, Spanish moss as a base color is nicely offset by crisp white for the trim. Another idea is to use a deep red for the front door. This looks terrific on a taupe-colored house.
The Impact of Color Combinations
Popular exterior home colors for the 2019 to 2020 season are usually in combinations of three or four colors. Strong color contrasts make a home look spectacular and adds to the allure. The focus of view is drawn to different elements by the color differences.
The four-choice combinations include using a different, yet complementary color for the 1) siding (base color); 2) front door; 3) trim, and; 4) highlights. The basic three-color choice does not have a different color for the highlights.
Base Colors
The popular base colors, in the order of their popularity, are:
Navy or Sea Blue
All Black
Browns: Taupe, Natural Clay
Greens: Spanish Moss, Olive
Soft Yellow, Autumn Red
Trim and Highlight Colors
Contrasting colors work well for trim. A light bright trim looks terrific with a darker base color. If highlight colors are used, they should come from the same part of the color-wheel spectrum and perhaps be one shade lighter or darker.
Here are some choices for contrasting colors that go with the five base colors listed above.
For Blues: Light Gray or Crisp White
For Black: All black is monotone with no different trim color. Landscaping that includes evergreen bushes planted in beds that have light-colored tan rock as a ground cover creates a contrast instead of paint color.
For Browns: Crisp White, Dark Gray, and Cream work well with browns.
For Greens: Crisp White is the most popular choice for trim on a green-colored house.
Yellow and red colors work together as contrasting colors for the base and the trim.
Front Door
Do not be shy with the choice of a front door color. Instead, feel free be dramatic and choose a very bold color if you'd like. Offset the trim and base colors by choosing a front door color that is much darker or brighter. The goal is to make the front door color extremely eye-catching, which some says to have psychological effect of inviting a visitor into the home.
Conclusion
If you need any help with color choices, see our gallery and give us a call at 904-337-0216. Envision Custom Homes in Jacksonville, Florida creates stunningly-built custom homes in the Jacksonville area and serves St. Johns County and Orlando, Florida.
Posted on