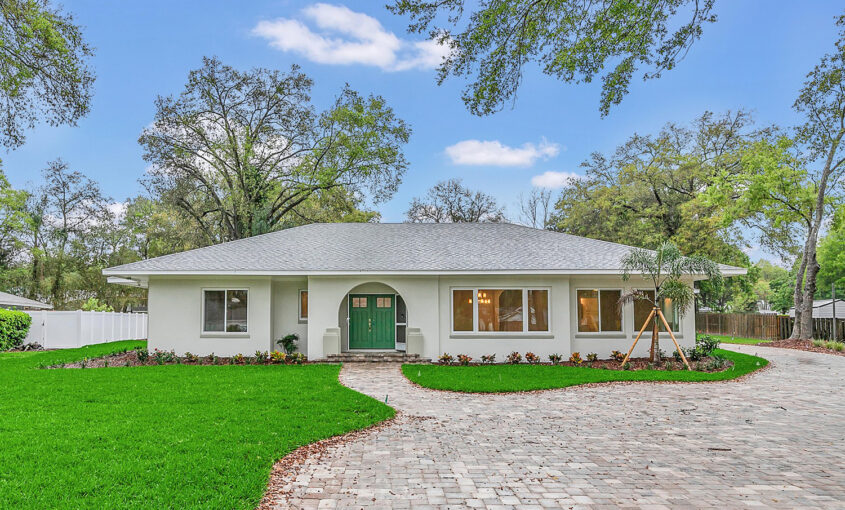 If you are a homeowner and are beginning to feel tired of your current living space, you have two options for change: renovate or move. Of course, there are a lot of things to consider when making this decision, from your financial situation to the real estate market, emotional attachments, and wondering if the timing is right. For those who have lived in their homes for years or even decades, it may be a tempting thought to plan an entirely fresh start in a brand-new house. However, there are many ways to completely transform your space through custom home renovation work while increasing its value and avoiding the stress and inconveniences of moving.
When it comes to renovating a house, there are likely many homeowners out there who are not quite sure where to begin. Or maybe you are so incredibly eager to start picking out new finishes and paint colors that you miss the important behind-the-scenes details. Envision Custom Homes has over 15 years of experience with custom home remodeling and renovations in Northeast Florida and Central Florida. Here are some basic tips we recommend considering before your home renovation project.
Tips for Planning Your Custom Home Renovation
1. Know Your Budget
One of the first steps to any successful renovation project is determining your budget and sticking to it. This all starts by deciding what it is you want to change about your home, and knowing from the beginning how much you are able or willing to spend. For starters, you might look at the equity you have in your home and talk to your bank about a home equity line of credit (HELOC). Listing your priorities for remodeling may also be helpful when determining your budget. One homeowner may want to increase their home's value by updating the kitchen and bathrooms, while another homeowner's wish might be just to expand their indoor/outdoor living space to enjoy the Florida weather more fully! Knowing your priorities and your budget in advance is beneficial because it will ultimately dictate how the rest of your home renovation planning will go.
2. Be Realistic About Your Timeline
When going into a custom home renovation process, always keep in mind that anything that is worth doing needs the right amount of time to be done right. There are plenty of home design shows that make it seem as if an entire home renovation can be completed in a matter of days. This is simply unrealistic! Whether you are re-designing one room or your home's entire interior, the process will take a considerable amount of time to achieve the best results. No matter the size of your home renovation project, it is extremely important that you and your contractor set a realistic schedule that provides room for planning, materials delivery, construction, and any mishaps that may happen along the way.
3. Spend Time in Your Space
Once you have decided you are ready for a home renovation, the initial excitement may lead you to begin making quick design choices that you might have second thoughts about later down the road. You should rely on comprehensive, detailed renderings and mockups provided by your designer and custom home builder to help visualize your new space and the finishes and features of the renovation work. Many contractors and home builders utilize 3D & 4D technology to virtually showcase a new home design from the inside out. Take your time to review every design decision and visualize exactly how it will appear in the overall renovation space. Design choices could easily change as you spend more time analyzing your space and creating the full picture of your desired end results.
4. Find the Right Contractor
Even though you are staying put, renovating a home is still a good amount of work that requires a great custom home builder that you can trust. The right custom builder will be great at communication, have plenty of positive customer reviews, demonstrate a record of exemplary home-building work, and have the experience necessary to tackle the project at hand.
5. Expect the Unexpected
Lastly, it is important to remember that no home renovation project goes exactly as planned. Despite all your best efforts in budgeting, scheduling, and planning, there may inevitably be unexpected events that cause delays or changes. Homeowners should always be prepared to expect the unexpected when it comes to any type of home renovation and understand that having a few surprises here and there is completely normal.
Reliable Custom Home Renovations in Jacksonville
When considering a home renovation or remodeling project, homeowners should research contractors to ensure that they are selecting a quality home builder that knows how to bring their visions to life. Envision Custom Homes provides over 15 years of experience renovating and building new homes across Northeast Florida and Central Florida. Contact us today to schedule a consultation!
Posted on