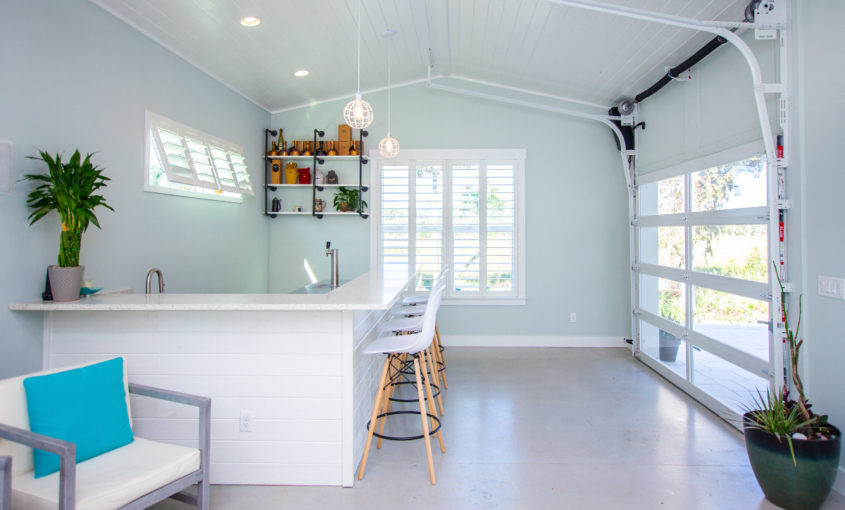 Envision Custom Homes has worked as a custom home builder in the Northeast Florida  construction industry for over 16 years. We've built over 80 homes and have completed countless renovations and house additions. Our service areas include all of the Greater Jacksonville FL and Orlando FL regions, with a particularly strong focus in St. Augustine and St. Johns County.
Occasionally, we get calls from clients who have gotten into trouble with their renovation, remodeling or home addition projects. We've seen all kinds of problems that could have been easily avoided if the work was done by a professional with experience in custom home building.
One of the biggest problems we see most often is when home additions look like they were slapped onto homes haphazardly, with no consideration of the flow between the existing houses and the new additions.
Other common problems include the incorrect installation of the electrical circuit system with improper load balancing and foundations that did not set properly, causing instability in the home. We've seen many projects where builders took shortcuts and did shoddy work. There have even been a few cases where the contractor started work, then disappeared without finishing the job.
Hiring Any Builder vs. a Professional Custom Home Builder
Just because somebody has carpentry skills or is a handyperson who has built a few things does not necessarily mean that they know how to do the full range of quality work required for a custom home addition.
Let's compare the two types:
"Any Builder"
Pros
Cheap price (may end up more expensive in the end)
Cons
No finished projects or solid references
Lack of skills and experience
Low quality work, which does not add value
Bad design and aesthetics
No stable work crew
Underinsured
Financially unsound
Professional Custom Home Builder
Pros
Plenty of finished projects and lots of glowing references
Excellent skills and plenty of experience
High quality work
Superb design and aesthetics
Stable work crew
Fully insured
Financially solid business operation
Cons
No low-cost bids, yet fair pricing
Advanced scheduling may be needed because their services are constantly in demand
Simply put, it's a mistake to hire a contractor for an important custom home addition just because they provide a cheap price. A price that is too low usually means the builder will do inferior work, use low-quality materials or both. Alternately, it could mean that they don't know what they're doing, and you risk them abandoning the job when they get stuck.
With an experienced custom home builder like Envision Custom Homes, you can save time and money while adding value to your home immediately. Forbes says hiring a professional builder to do the work to enhance what Better Homes & Garden calls the "curb appeal" of your home, will increase its property value. It is important not to lose value on your home investment with less-than-quality work.
Different types of additions you can consider to add value to your home and lifestyle, include:
Home Additions
Add a new second story to your home or expand towards the back, or sides of the house. As long as there is space available and the building codes allow it, a small home can be made much more valuable when converted into a larger one.
Room Additions
Adding an extra bedroom or two is something that many families need as their kids start to grow up and want to stay in separate bedrooms. Of course, adding another bathroom can always make everyone's life a little easier!
Garage Additions
Many Floridians like to store their boats in their garages when they are not in use. A great way to create more storage space is to add another garage or extend the one that you have. The extra space is useful to store all kinds of things. It can also make a fun playroom for ping-pong or a pool table.
Sunroom Additions
Adding a sunroom is a popular, cost-effective way to expand a home. It creates a nice interior space to rest and relax that brings the outside, in. Having a lovely garden in your sunroom with a water feature, such as a fountain or a fishpond can also create a peaceful, tranquil area to enjoy a cool drink or Zen out.
Conclusion
When considering home additions, homeowners should research builders to ensure that they are getting a quality company that knows how to build custom homes. Look at their previous jobs. Check out how long have they been in business. Work with one company for everything, and make sure that you have lots of options to consider when making home additions.
Envision Custom Homes provides 16 years of experience building custom homes across Northeast Florida and Central Florida. Call them now in Jacksonville at (904) 337-0216 or Orlando at (321) 695-2784.
Posted on