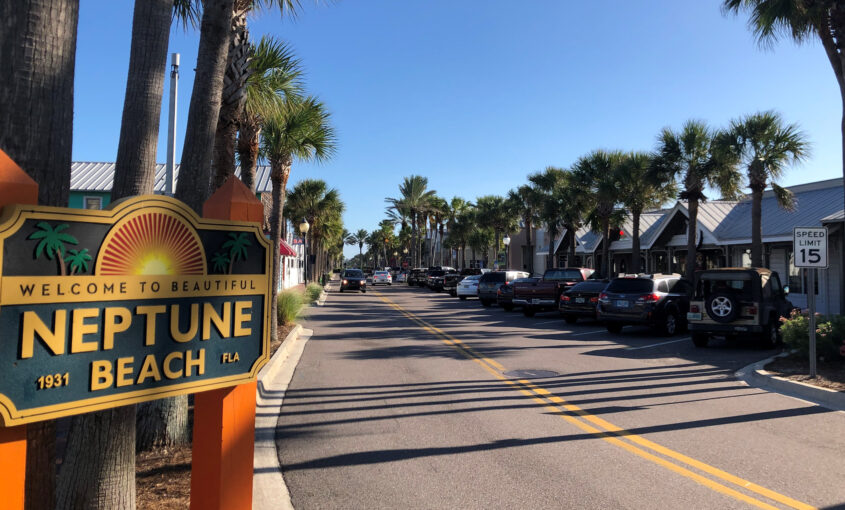 Looking for a charming, upscale beach town in Jacksonville, Florida to call home? Neptune Beach may be the perfect spot for you! From beautiful beaches to an abundance of local restaurants, entertainment, great schools, nature trails, and parks, there is truly something for everyone in the inviting community of Neptune Beach. Of course, we understand that neighborhood research is one of the most essential steps in deciding where you want to build a new custom home. Read on to learn more about what everyday life is like for Neptune Beach locals and why more people are moving to this tight-knit coastal community.
Life in Neptune Beach, Florida
The Location
Neptune Beach is a town in Duval County, centrally located between Atlantic Beach and Jacksonville Beach. Bordered by the Intracoastal Waterway to the west and the Atlantic Coast to the each, the quaint community of Neptune Beach is ideal for those who desire to be close to the water while also enjoying the suburban feel of a small city with big character and charm. The Beaches Town Center, which connects the neighborhoods of Neptune Beach and Atlantic Beach, greatly contributes to the area's popular identity. Neptune Beach features several family-friendly restaurants, local boutiques, and entertainment. Every amenity you can think of is within short proximity, so locals can enjoy the real beach town lifestyle without ever having to cross the bridge to "mainland" Jacksonville.
The Beaches and Parks
The beautiful coastline and rolling waves of the Atlantic Ocean make Neptune Beach a hotspot for beachgoers and surfers alike. Along with an array of water activities, the town also features multiple scenic parks and natural trails – including Tall Pines Park, Jarboe Park and Gonzalez Park – providing recreational facilities for kids as well as adults! Whether you want to lay out with the ocean breeze, enjoy a picnic under the shade, or take a walk along a nature trail, the city of Neptune Beach has it all.
The Culture
There is no doubt that the city of Neptune Beach emphasizes a feeling of community. For starters, The Beaches Town Center hosts Dancin' in the Streets, an annual neighborhood event that features live bands, art pop-ups, and more. In addition, the town hosts an Art Walk every month that allows local vendors, artists, and musicians a chance to share their talents with the community.
Envision Custom Homes Can Build Your Custom Home in Neptune Beach
The team at Envision Custom Homes has over 20 years of building custom homes throughout Jacksonville and the Beaches, including Neptune Beach. We specialize in building coastal-style homes that blend seamlessly with the beach town lifestyle. Take a look at a few of our custom home projects in Neptune Beach, Florida
Emma Lane – Neptune Beach, FL
Cherry Street – Neptune Beach, FL
Magnolia Street – Neptune Beach, FL
Posted on