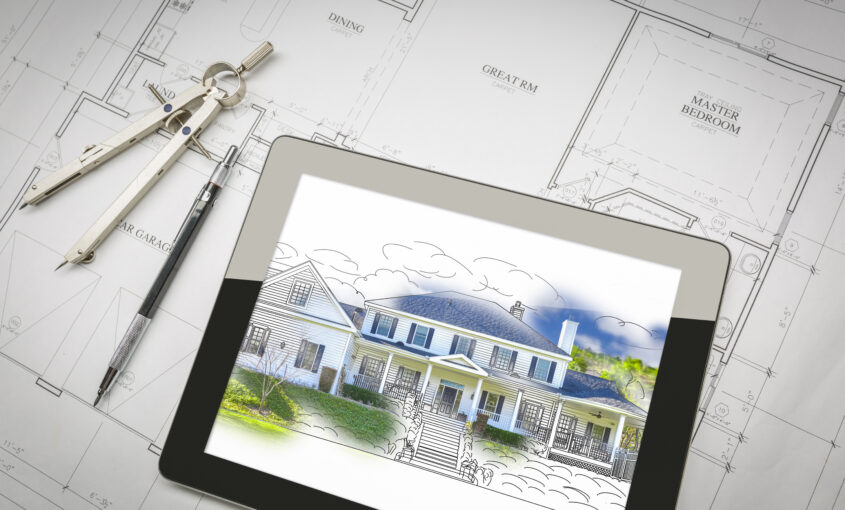 One of the most frequently asked questions when it comes to building a custom home is who you should contact first, an architect or a builder? For some, it may seem intuitive to start with the architect because the design must be made before you can build it. Right? True, but that's not necessarily the best decision when you want to tear down and rebuild a new custom home on your own lot, or if you're considering purchasing a lot for new construction. While an architect will play an important role in the homebuilding process, meeting with a home builder first is arguably the better way to get the home that you desire. Keep reading to learn why contacting a reliable custom home builder should be your top priority.
What's the Difference Between Architects and Builders?
Custom builders and architects are both highly qualified professionals who provide a unique contribution to any home-building project.
An architect creates the blueprints and construction documents for the new home and may also provide additional renderings or 3D models to help visualize the architecture from several angles.
A home builder, most often a general contractor, can execute various home construction and remodeling projects from start to finish. The builder will use the blueprints as references during the construction process.
The Benefits of Contacting a Builder First
If you're making the investment to build your dream home, having confidence in your home builder is truly the most important piece of the puzzle. You're going to communicate with your home builder throughout the entire journey, about everything, from the floor plan and exterior paint color to the bathroom tile and backyard patio. They need to listen and truly understand your vision.
When you hire a custom home builder, you will probably communicate with a team of people at the company including the contractor, a project manager, and a design specialist to assist with the floor plan and selections. The best custom home builders will also have long-established relationships with reputable vendors and trade partners who specialize in different aspects of home building – such as framing, roofing, finish work, and landscaping.
The home builder may also offer a library of professionally designed home plans which can be modified or customized to create your perfect floor plan. Starting from a pre-designed floor plan may expedite the project timeline and reduce the chances for unexpected change orders later in the process.
In addition, a good custom home builder will have the technical expertise to offer suggestions or alternatives for improvements in design based on your needs and budget that may provide time and cost savings down the road. After all, there is no worse feeling than having your heart set on a certain vision only to discover later on that what you selected and planned for is actually out of your budget.
Envision is Your Partner for Custom Home Building in Florida
By working with a reliable custom home builder like Envision Custom Homes, you can rest assured that our team of professionals will provide the guidance that is necessary when designing a custom home that meets your needs and budget. For the past 20 years, we have offered full remodeling and build on your lot new construction services. Contact us today to learn more about how we can create a beautiful custom home that reflects your unique vision!
Posted on