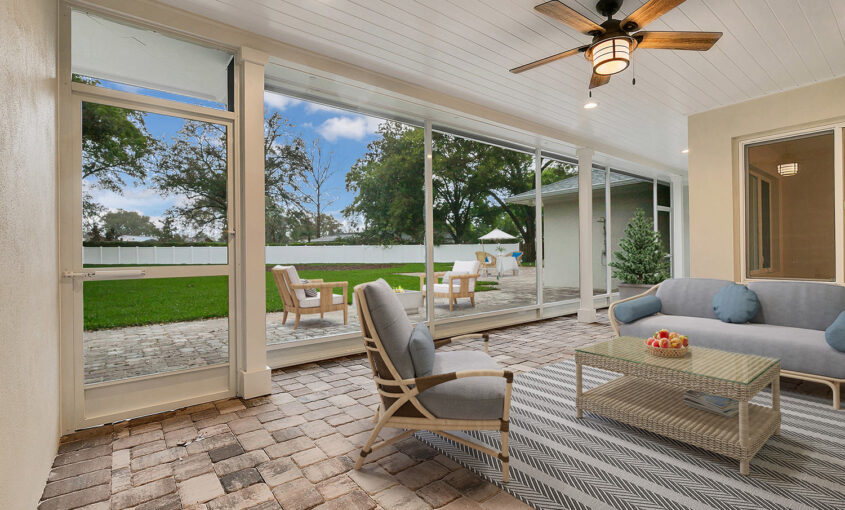 Outdoor living spaces have become one of the most desirable features among homeowners and for great reason – especially when you live in Florida! One of the greatest perks of living in the Sunshine State is the warm climate that allows homeowners to enjoy the outdoors, year-round. Covered patios, decks and outdoor dining areas have a way of transforming a simple backyard into a special place to gather and entertain.

Of course, great weather doesn't always mean perfect weather! Living in Northeast Florida also means enduring hot summers and unexpected rain showers, which is why building a covered patio or "lanai", as it is often called, is one of the most important factors to consider when creating your dream outdoor living space in Florida. Read on to learn the benefits of having a high-functioning, covered outdoor living space that can be used year-round.
1. Covered patios let you enjoy the best of indoor-outdoor living
Many people who are considering building a custom home these days include a covered patio on their wish list. It's also one of the most requested remodeling features. First and foremost, this is because a covered patio enables you to enjoy the best of indoor-outdoor living. It helps provide a nearly seamless transition from your home's indoor space to the outside. Rather than opening up your patio doors and walking directly out into the Florida sun onto a hot patio deck, a covered patio creates a sense of flow and continuity between your home with fresh air and exposure to the great outdoors. As a result, you naturally find yourself utilizing and enjoying the space more.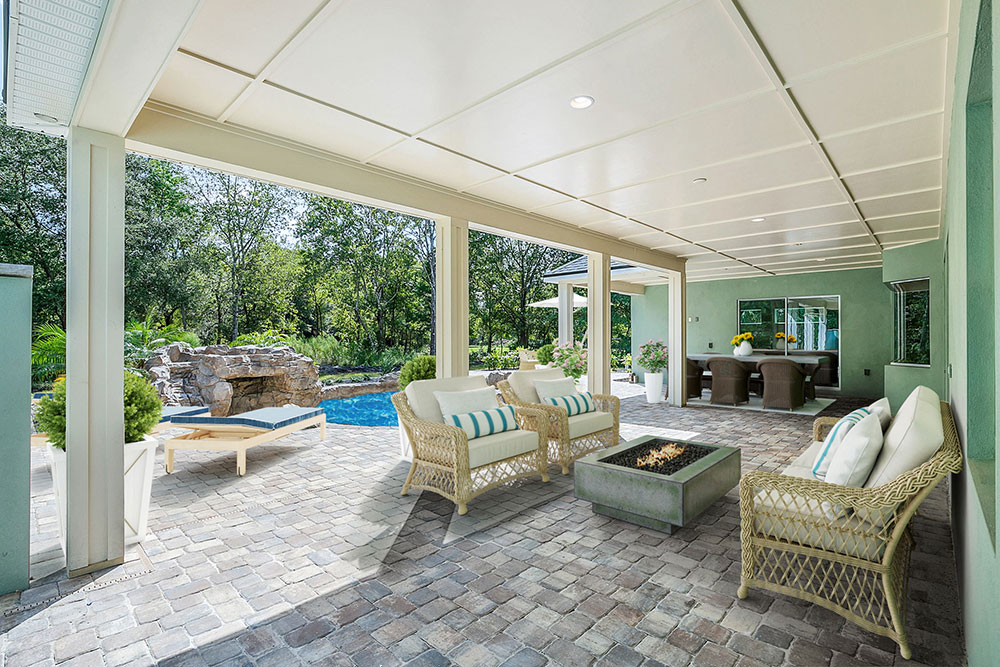 2. A covered patio protects you from the rain and sun
Let's face it: even though we live in the paradise that is sunny Florida, that does not necessarily mean that we don't experience our share of rainy days throughout the year; not to mention the afternoon sun-showers that regularly occur during the spring and summer months, that often appear within a matter of minutes after hours of clear skies. With a covered patio, homeowners are protected from this kind of wet weather.
In addition, a covered patio can also act as the perfect safe-haven from the sun when the summer heat gets to be just a little too much to bear. It enables you, your family and friends to enjoy your outdoor living space anytime, rain or shine, while staying cool and dry, year-round.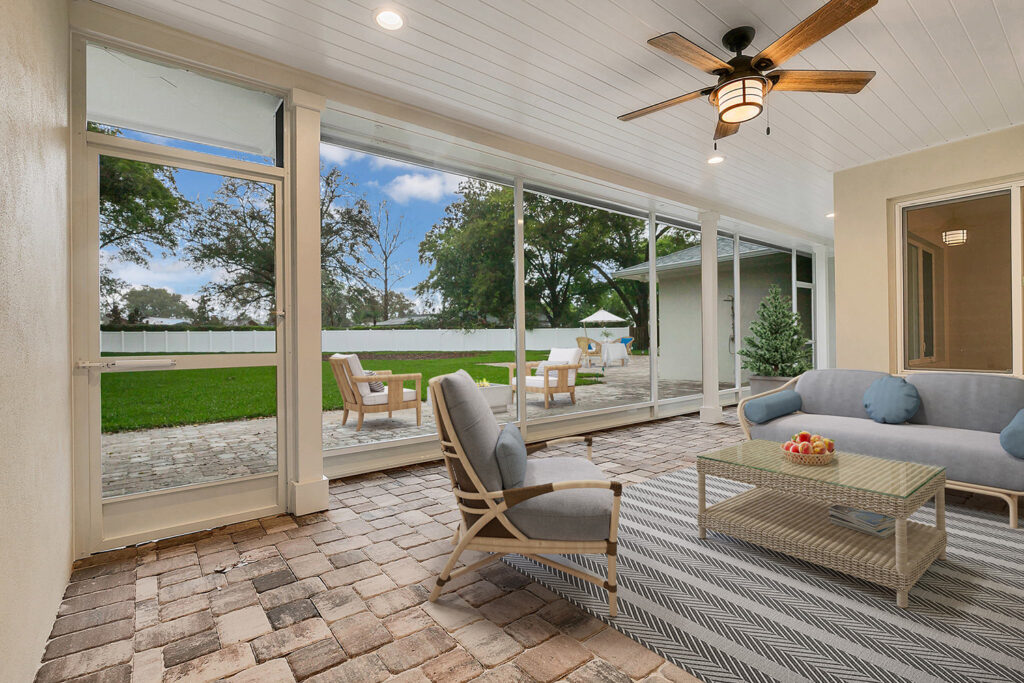 View More Photos of our Florida Home Projects
3. A covered patio helps protect your outdoor furnishings
The best outdoor living spaces often feature a beautiful array of outdoor furnishings, such as sofas, ottomans, outdoor rugs, tables, and other items that may be sensitive to harsh elements. Similar to the furniture inside your home, it is important to keep your outdoor patio furniture protected from moisture and UV rays. Decorating your outdoor space can be a significant investment. It would be unfortunate to let that value go to waste due to damaged caused by the weather. Having a roof covering your outdoor living space will increase the lifespan of your patio furniture and keep it looking fresh and functioning well, for years to come.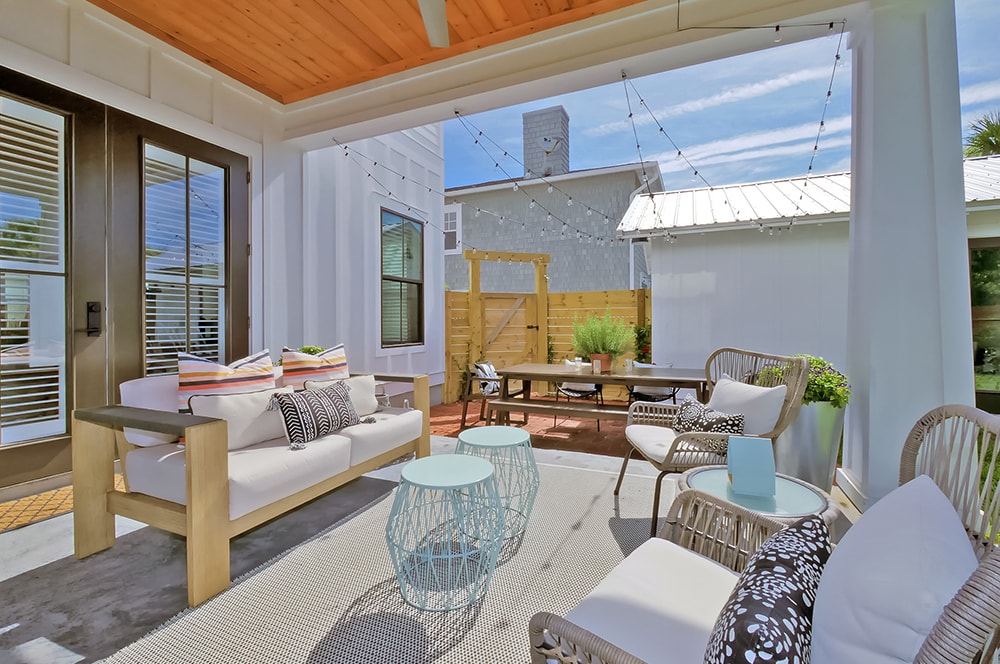 4. A covered patio increases your home's value
There is no doubt that buyers these days are searching for homes that feature an attractive outdoor living space. Even if you do not have intentions to sell your home any time soon, adding a covered patio space is a great investment that will ultimately increase the overall value of your home.
Quality Custom Home Builders in Jacksonville and Orlando
For over 16 years, Envision Custom Homes has been building and renovating homes in Jacksonville and Orlando—with many projects featuring show-stopping outdoor living spaces. You can trust our team of residential design/build professionals to guide you through every step of the process and deliver results that mirror your unique vision. From custom home design, remodeling, and build-on-your-lot services, we are here to help make your home building experience as stress-free as possible. Contact us today for a custom home building or home renovation consultation.
Posted on