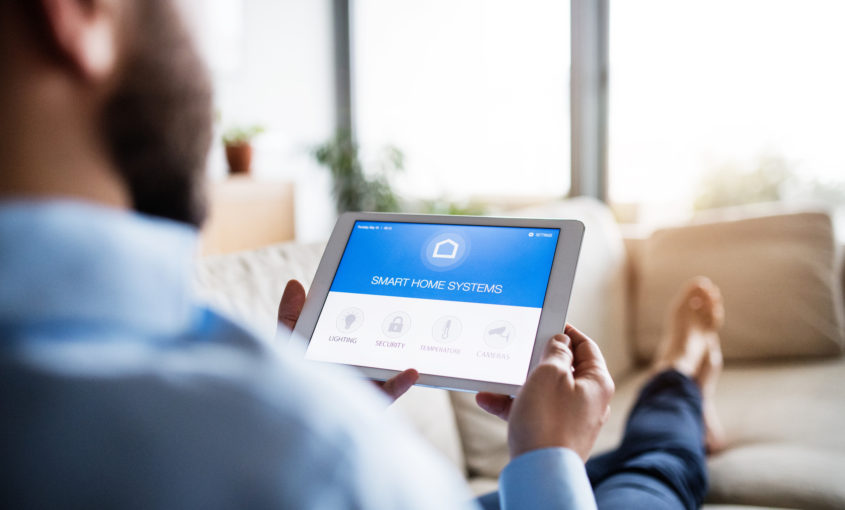 Custom Smart Homes
The "smart" age is here – smart phones, smart keys, even smart homes.
Technology has given us the power to monitor and control various aspects of our home, even when we aren't physically located inside the building. Now, you can easily look inside your house, turn on the lights, switch off the television and even talk to your pets from halfway across the world by touching a single button on your mobile screen.
Experts in Internet of Things (IoT) technology, industrial design, and the construction and interior design industries believe that we may be much closer to building a Jetsons-like world than we realize. Already, 58% of millennials, 50% of Gen Xers and 26% of baby boomers have at least one voice-controlled smart device in their homes today. The time is rapidly approaching when all homes will be completely "smart".
If you're thinking about building a new house that incorporates the latest in IoT smart home technology, consider one of Envision Custom Homes' custom smart homes.
6 benefits of smart homes over traditional builds
Smart homes let you to keep an eye on your property 24*7
Home security is the need of the hour. In fact, studies show that 3 out of 5 Americans purchase remotely-controlled home security products to monitor their homes through their smartphones.
One of the biggest advantages of smart homes is home security. Smart homes are built to automatically alert both you and law enforcement officials of dangerous incidents that are happening at home or about to happen.
Cameras, fire detectors, sensors and alarms can all be centrally-controlled through just the touch of a button on your phone. Some state-of-the-art smart home security systems also allow you to remotely put your home on lock-down, to prevent people from breaking-in.
Smart homes allow you to control in-house appliances and equipment remotely
Smart homes help you improve the functionality of your smart systems, appliances and devices. Take smart lighting and smart air conditioning for example. Through technology, you can remotely set your home temperature to a desired level and switch your lights on and off at your command. Now, you can make your home comfortable and ready for relaxation, while you're leaving from work.
Let's say you plan to let out your new build to guests on Airbnb. You can remotely the smart systems in your home to be ready for when your guests arrive. If there are problems with an appliance or other item inside your home, you can remotely allow repairmen and contractors into only select areas of the house and keep an eye on them while they tend to their tasks. Smart homes also come with a two-way communication system that allow you to converse with people in the house, through your phone.
Smart homes help you save energy
One of the biggest responsibilities of smart technology is to fix problems and improve the operational efficiency of the home's appliances, in turn reducing its carbon footprint. These energy-efficient custom homes will control the sleep and wake times of your devices, so that you don't waste electricity & water. Not only is this more cost-effective, it makes home maintenance much easier.
Additionally, many smart homes tap into the power of solar energy, in order to reduce the energy consumption of your house. Once you set the command, your smart home will automatically activate the solar panels during the day, and at night, channel this energy to power other appliances. At Envision Custom Homes, we have extensive experience designing and building custom solar homes using state-of-the-art technology.
Smart homes make your home child-, senior- and disability-friendly
Imagine you have to leave your child, senior parent or disabled relative home alone when you go to work. It can sometime be risky to do this, without assistance or supervision. This is where smart homes are extremely helpful.
Now, you can use technology to remotely keep an eye on your loved ones at home, bring down ramps when needed, lock the garage door from your curious child, or even set up a smart kitchen which is disability-friendly and can help your loved ones prepare their own meals, without harming themselves.
Smart homes turn your house into a personal assistant
Smart homes are designed to support your lifestyle and make it as stress-free, as possible. In the coming years, technology will allow your home to keep your food, clothes and baths ready at the time you need them, even without your explicitly placing the command for the same.
Your smart home will transform your house from a building into a personal assistant, dedicated to making your life easier and more enjoyable.
Smart homes help you reduce expenses and save money
The average US household spends $1,335 per year on electricity. Did you know that based on that level, installing a smart thermostat saves you at least $219 per year?
A smart power strip can save another $200 a year. A smart sprinkler can save $143 annually, a smart dish washer, $35 a year, and so on. It has been observed that a smart house, powered by smart appliances, can save homeowners at minimum, on average, north of $996 every year.
The cost of installing new smart home technology isn't restrictive, either. Research shows that most homeowners can typically make-back their investments in many smart systems and devices within 2 years of installation.
Contact Envision Custom Homes for custom smart homes
Our team at Envision Custom Homes have over 15 years of experience designing and building smart homes. Call us today at (904) 337-0216 for a free consultation on your new custom home build.
Posted on