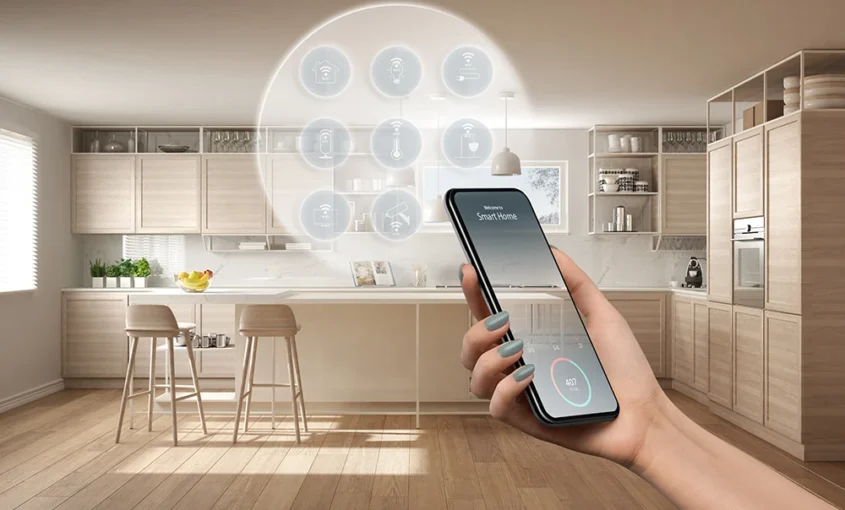 Custom smart homes are becoming the new norm among homeowners in Florida, and for good reason. Designed to provide a number of conveniences to everyday life, smart home technology can remotely perform tasks such as thermostat schedules, lighting systems, water monitoring, security, and energy usage. Whether it be one device or an entire custom smart home network, Florida homeowners are taking advantage of the many features that help run their home more efficiently.
What is a Smart Built Home?
A smart built home is a residence with installed internet-connected devices that enable remote monitoring and management of appliances and systems. Smart home technology, also known as home automation, has proven to provide homeowners ultimate accessibility and peace of mind by allowing them to control everyday home tasks from one place. Home automation goes far beyond just using Siri or Alexa to play music for you!
The Benefits of Florida Smart Homes
1. Increased Home Value
Whether you are building a custom smart home from the ground up, or renovating your home, smart home technology is undoubtedly one of the best investments you can make for your home today. Not only can smart home upgrades make your home a more efficient and convenient environment, but they may also attract potential homebuyers in the future. As our society continues to grow more dependent on the Internet of Things (IoT), homes that are integrated with smart features will ultimately enhance overall appeal and help increase return on investment.
2. Enhanced Home Security
Safety is often one of the most important factors for those looking to build or buy a home. While surveillance cameras have been around for some time, they have never been as smart as they are now. Smart home builders are committed to putting stronger emphasis on home safety and security by offering various technology solutions. In addition to motion-activated surveillance cameras that provide HD picture quality, certain home automation devices may also allow homeowners to lock the front door or lower a garage door from a cell phone, and receive real-time notifications when signs of trouble are detected like a water heater leak.
3. Improved Energy Efficiency
It's no secret that Florida homeowners must endure warmer year-round temperatures, which, without the right equipment, can sometimes lead to higher energy bills. However, Florida smart homes have the ability to manage a number of utilities such as heating, cooling, and lighting in efforts to reduce rising energy costs.
From motorized shades to automated lighting and remote controls, custom smart homes have proven to make a significant difference when it comes to saving energy. If you are considering home automation to help conserve energy, consider incorporating motion sensing lights that are able to detect when someone has left a room, smart thermostats that can be controlled via a smartphone or tablet, and automatic window shades that block heat from the sun.
4. Unmatched Convenience
When thinking of custom smart homes, there is one word that always comes to mind: convenience. Gone are the days of worrying if you remembered to turn off the lights before leaving the house, or if you bumped up the air conditioning before a weeklong vacation. Furthermore, home automation systems also allow homeowners to clear cluttered coffee tables of various remotes and switches. By integrating the various features of your home into one simple system, you can now relax knowing you have all control in the palm of your hand.
Now that you know the amazing benefits of smart built homes, why not get started with installation? Envision Custom Homes specializes in designing and building custom homes that feature integrated smart home technology. From cutting-edge home-automation controls for lighting, climate, entertainment and security to smart, energy-efficient appliances, we can build a home that simplifies your life in ways you may have never even imagined. Contact us today to get started.
Posted on